Ref:
Date:
Location:
Photographer:
Ref:
Date:
Location:
Photographer:
Weekly Art Courses
In addition to the 2 and 3 day courses, weekly art courses run at The Stable Gallery.
Daytime Classes
run for three 10 week terms from September to July:
Tuesday
- Drawing and Painting Class. Tutor Laraine Simpson.
Thursday
- Drawing and Painting Class. Tutor Laraine Simpson.
Friday
- Life Drawing Class. Tutor Laraine Simpson.
Please
contact us
if you would like more information.
Laraine is a Fine Arts – Painting graduate of Central St. Martins, London, and has many years teaching experience, as a tutor for the Open College of the Arts (OCA), in Higher Education, Adult Education and privately (courses, workshops and painting holidays). She is highly regarded as a perceptive, patient and encouraging tutor working with beginners and advanced students alike, her main aim being to teach people to 'see' the relationships of line, tone, shape, colour etc which are fundamental to drawing and painting. Laraine provides tuition in a wide range of media and her structured approach to developing creative self expression equips students with essential practical skills and techniques supported by relevant theory. Experimentation with their chosen media is an important part of the process through which learners are encouraged to develop their own style and consolidate their new skills, facilitated by lots of individual tutor attention.
For her own work artworks Laraine uses oils, pastels, watercolours, and a variety of drawing materials. Her main inspiration is the interplay of light on surfaces, particularly the human form (portraiture and figure work) and landscape. Other favoured subjects include architecture and equestrian work. Her work ranges from a fast, loose and free gestural approach to a more measured and evocative tonal style. She has exhibited widely and has work in a number of private collections.
Evening Classes
Wednesday
- Life Drawing. Tutors Stuart Whitehead and Anna Poulton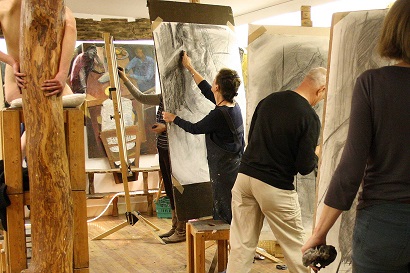 Stuart and Anna previously co-ordinated The Curiously Strong Arts Group in Harrogate.
Stuart's love for history and the time-worn surfaces of old furniture and ceramics are a great inspiration to his artwork. His most recent artwork combines the sgraffito technique, with a rich impasto paint spread over a canvas which explores the surfaces and layers seen in an old fresco. He combines printing, painting and drawing to form layers of texture. Images are built up and washed back so they become like faded memories.
Anna makes mixed media drawings full of playful marks and layers of texture. She is fascinated by the shapes and structure found in nature. Her working method involves a puzzling process of creating drawings full of expressive marks, then using the destructive action of ripping to reshape and find a harmony.
For further details of their Wednesday evening course, please
contact Anna & Stuart
directly or see their
Facebook page